The Department of Information Science is proud to announce that Mathew Zuniga ('21 MLS) is the recipient of the 2022 Rising Star Award from the University of North Texas Alumni Association. The Distinguished Alumni Achievement Awards is a long-standing university tradition that recognizes the best in the UNT alumni network. Honorees have contributed significantly to their companies, communities, and the university while upholding high standards and values. The Rising Star award recognizes recent graduates for distinguished achievement that has merited the honor and praise of peers and colleagues.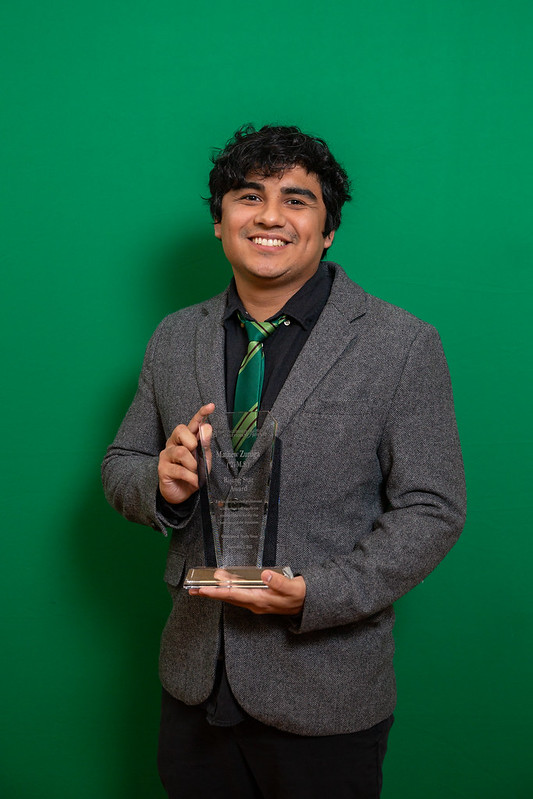 Zuniga graduated from the Master of Science in Library Science program with School Librarian Certification in 2021. Mathew is currently a teacher and librarian at the Del Valle Opportunity Center. Mathew was motivated to earn his degree in library science in order to become the librarian at his school and to begin a library program that would inspire and positively impact the students he works with.
"He went out of his way while still working as a teacher full time and becoming a librarian and built a library with these kids, helping them so that it would be their library," said Tricia Kuon, lecturer, who nominated Mathew. "Honestly, I think it's life-changing for the students. I don't know if Mathew will ever know how many students he impacts with what he does and what he has already done. I just can't wait to see what he's going do next."
Mathew has successfully implemented two major literary programs at his school that bring students into the library to learn about various books and also promote self-confidence by allowing students to practice their reading skills by reading books to others.
"Be the change you want to see," says Zuniga. "If you can't find what you want, go and make it. Sometimes we don't understand or realize how much power we have over the work we do."
Mathew's additional accolades includes the Teacher of the Year Award for 2020-2021 for the Del Valle Opportunity Center and the 2022 Department of Information Science Outstanding Early Career Alumni Award.
Mathew was recognized during the 2022 Distinguished Alumni Achievement Awards Dinner held November 2, 2022. View photos of the event.
Learn more about Mathew from the video below:
Published December 12, 2022.