The faculty of the Department of Information Science is pleased to announce Dawn Smith and Mathew Zuniga as the 2022 recipients of the Department of Information Science Outstanding Alumni Awards. The awards recognize alumni that have made, or demonstrate potential to make an impact in the field of Library Science, Information Science or Data Science, and demonstrates the Department's values and standards, and/or supports current students and the Department's development.
Outstanding Alumni Award
Dawn Smith graduated from UNT with a Master of Science in Library Science in 2005. She is currently the Head of Acquisitions at the Lillian Goldman Law Library at the Yale Law School. Prior to this role she served for nearly a decade in several public and technical service librarian roles, which culminated in her role as the Head of Collection Management Services at Loyola Law School - Los Angeles.
"The Master's program gave me exposure to different types of libraries (medical, law, special collections, public) through the coursework and capstone class," said Smith. "This exposure helped me to evaluate types of workplaces and connected me to a community of information professionals, which has helped launch and grow my career," she added.
Dawn is an active member of the American Association of Law Libraries, and has served on several committees, caucuses and special interest sections of that organization, including five years on the executive board of the Black Caucus of AALL. She has presented at various conferences on topics such as integrated library system updates, library acquisitions workflows, as well as diversity, equity, and inclusion issues in collection development, hiring practices and recruitment and retention initiatives. Dawn also serves on several Yale specific committees, including the Yale Law School Staff Anti-Racism Working Group, The Lillian Goldman Law Library Anti-Racism Task Force, and the Yale University Library Advisory Committee on Library Staff Diversity and Inclusion, where she serves as the co-chair of the recruitment and retention sub-committee. Smith is also a member of the first cohort of selected Yale leaders to participate in the Emerge at Yale leadership program, a program made up of a select group of Yale University managers and supervisors selected by the President's Cabinet members to be developed as the future leadership at Yale.
Outstanding Early Career Alumni Award
This year, the faculty installed the first Outstanding Early Career Alumni Award, an award that recognizes the accomplishments of recent graduates. Mathew Zuniga, a 2021 graduate of the M.S. in Library Science with School Librarian Certification, is the first recipient of this award.
"It's truly an honor to be recognized by the Department of Information Science for this award," said Zuniga. "It informs me that hard work being done in libraries is being recognized and proves the department cares to keep up with their alumni. I hope to live up to this award and continue to push forward within libraries."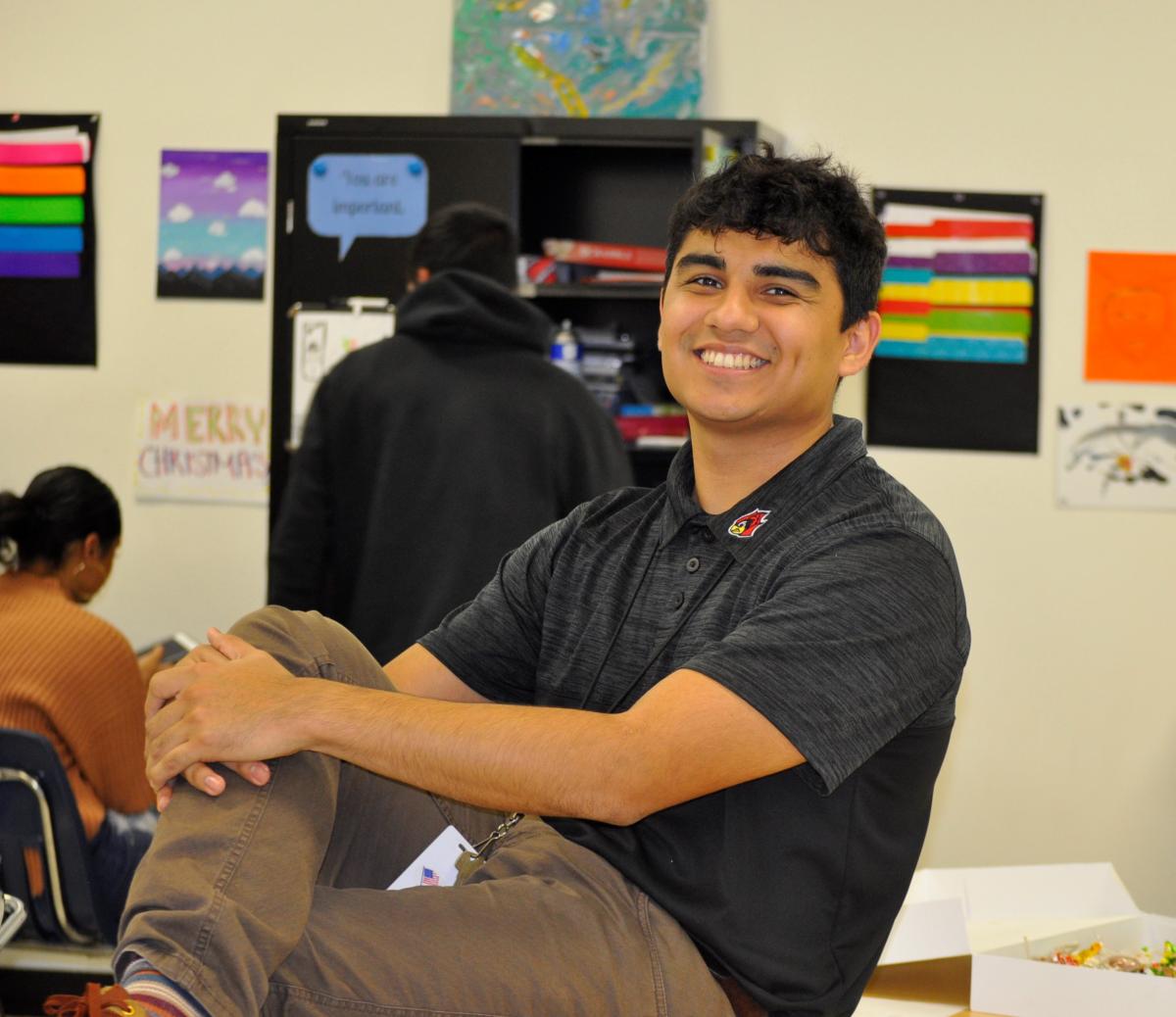 Mathew was born and raised in the Rio Grande Valley, in the small town of Rio Hondo, TX. He graduated in 2017 with a BA in English, minor in Education, and a teacher's certification from Texas State University in San Marcos. Mathew immediately started work at Del Valle's District Alternative Education Program before starting as an English III, Speech, and Journalism teacher at the Del Valle Opportunity Center. Since then, he has worked in alternative education and brought elements of a traditional school library to a campus with a library but without a librarian. Mathew was also named Teacher of the Year for the 2020-2021 academic school year by the Del Valle Opportunity Center
Dr. Tricia Kuon who nominated Mathew for the award wrote: "I had the privilege of being one of Mathew's teachers as he earned his master's degree. Mathew was an amazing student whose work was always exemplary and thorough. I could see that he was putting forth the extra effort that stands out in a student rather than going through the motions to meet the minimum requirements to earn points for assignments. During his practicum semester, I learned that he was working at the Del Valle ISD Opportunity Center, an alternative school in Del Valle ISD. While he was working as an English teacher, Mathew recognized that the OC needed a better library, and it needed a librarian. He decided to earn a degree in Library Science so that he would know how to begin a library program at the OC. While teaching full time as an English teacher and working on his master's degree, Mathew began working with students and teachers to build the library program at his school. Although it took many months to build and is still a work in progress, the Del Valle Opportunity Center Library is now a thriving, functioning space, featuring student artwork, and provides a "safe and open space" for all students. It is a thriving community space that meets learning, social, and emotional needs of the students in the community. This amazing space would never have been possible without Mathew's vision and willingness to donate countless hours in developing and managing the library, not to mention the time and effort spent earning his master's degree."
Dawn and Mathew were recently recognized at the annual Alumni & Friends Dinner held on April 27, 2022 in conjunction with the Texas Library Association Conference in Fort Worth, TX. For photos from the event, visit the COI Flickr page.
Published May 25, 2022.