The Department of Information Science is proud to celebrate the accomplishment of Huyen Nguyen, a student in the M.S. in Information Science program who was selected as the winner of the 3MT®, or Three Minute Thesis, Spring 2021 Master's competition hosted by the UNT Toulouse Graduate School.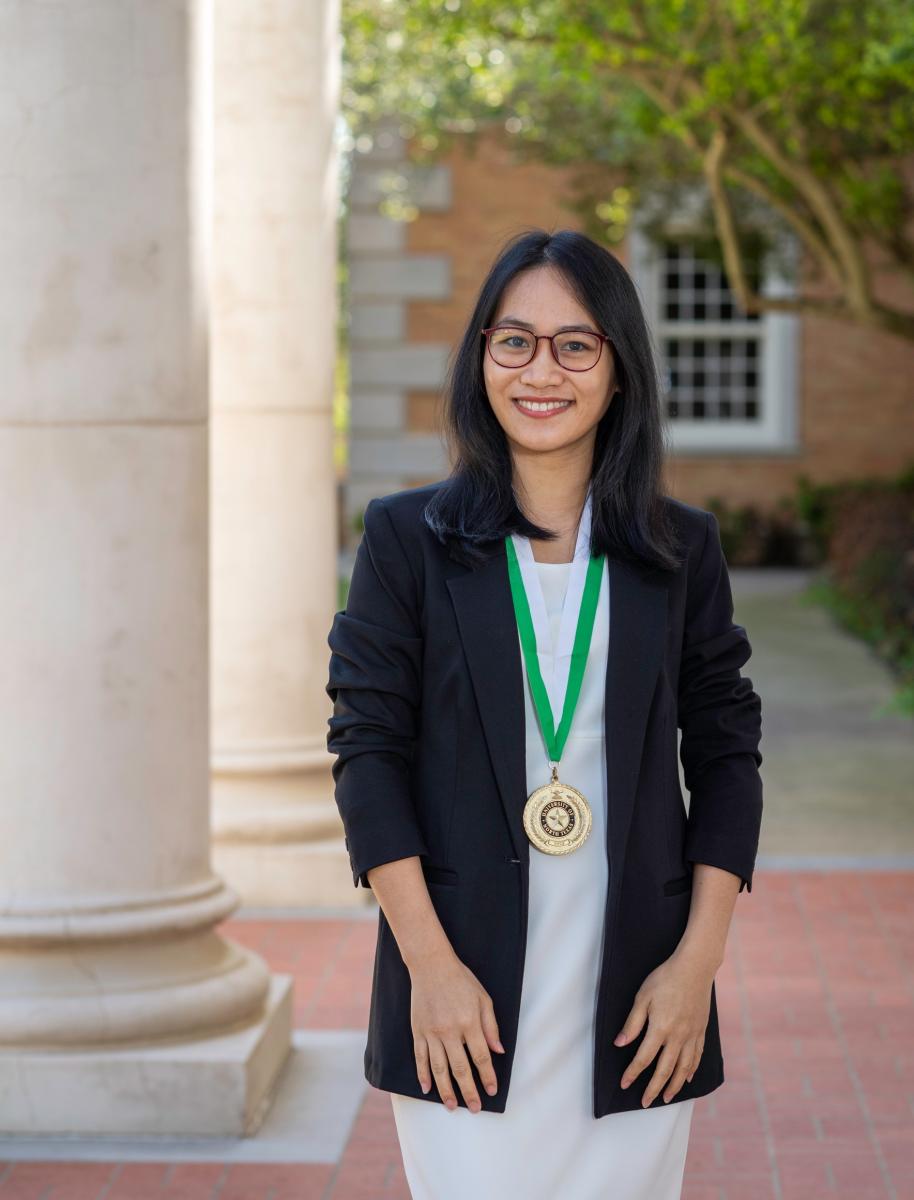 In the 3MT® competition, students each have three minutes to summarize their research methods and results of their dissertations, and discuss the significance of the results. Master's students compete in the spring semester and doctoral students compete in the fall. In addition to giving a three-minute oration, each student may use one PowerPoint slide to explain the research methodology, major findings and relevance of the research to a general audience.
"The research "Building a Knowledge Graph to mine the COVID-19 research papers" started when the pandemic hit countries all over the world," said Huyen. "I felt so grateful when it was then supervised by Dr. Jiangping Chen. English is not my first language, so I wasn't confident about attending any speaking or presentation competitions, but thankfully, I was encouraged by Dr. Chen to participate. And more importantly, I wanted to take this opportunity to improve my presentation skills and get people to know more about my research."
The judges at UNT's competition graded the students based on comprehension and content of their presentation, as well as their engagement with the audience and stage presence. The first place winner receives $1,000, with the runner up receiving $500. The audience chooses the people's choice winner, who receives $250.
Huyen, who is a Fulbrighter from Vietnam is in her final semester of the Master's program. She will begin the Information Science Ph.D. program this summer and hopes to help improve people's lives through meaningful research. Nguyen is also the co-author of an article with Haihua Chen and Dr. Jiangping Chen that is based on the same study, and will be published in the Journal of the Medical Library Association, a peer-reviewed journal in Health Informatics. Haihua Chen, an Information Science Ph.D. candidate also provided valuable advice to Huyen for the 3MT® competition.
Huyen encourages students who may be hesitant about entering the competition to get involved, as she enjoyed the experience and found it beneficial.
"In the beginning, I didn't think that I would win, but I knew that practice made perfect, and doing my best was all I could control. If someone is hesitating to enter this competition, I would say go for it."
The first 3MT® competition was held at the University of Queensland in 2008. The competitions are now held at more than 200 universities around the world, including nearly 40 universities in the U.S.
Highlights from the 2021 competition can be watched via the Toulouse Graduate School's YouTube channel: https://www.youtube.com/watch?v=2AXLSuEpkkY