One small 'thank you' note can certainly go a long way. Now imagine over 1300 of them placed into a collage and made into banners, displayed on a wall for all to see. The Post-it® Note Appreciation Project facilitated by current UNT Master's student, Boston Davis Bostian, is a collection of over 1300 post-it notes expressing gratitude and kind sentiments both to Veterans and to the staff at the Michael E. DeBakey VA Medical Center (MEDVAMC) in Houston. The notes were written by veteran patients, family members, community members, and MEDVAMC employees.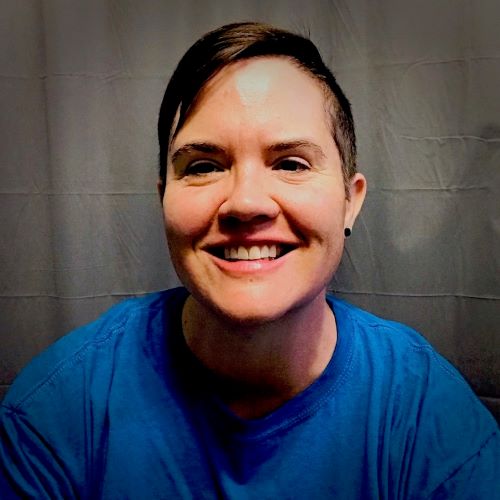 Boston, a Marine Corps Veteran, decided to create the display after personally experiencing and seeing an increase in the quality of care since first utilizing the Medical Center. Boston describes the project as "a community conversation between veterans, those who love and support us, and the staff members at our Houston VA."
Some of the notes on display say things like 'You make a difference in the lives of many', and 'Thank you for your service & our freedom.' Many say a simple 'Thank you' and 'Gracias.'
The display was unveiled in mid-December and is outside the cafeteria at the Houston VA. It is a set of two banners made out of 3x3-inch post-it notes, which spell 'Thank You U.S. Veterans' and 'Thank You MEDVAMC Staff.'
Boston, who is pursuing a Master of Science degree in Library Science with a focus on Archival Studies and Imaging Technology, found that many skills learned in classes were vital to the completion of the project.
"INFO 5815: Topics in Digital Imaging, for example, offered instruction on the various kinds of resolution and the pros and cons of different file types in imaging, which had to be taken into account due to the massive size of the project," said Boston. "Also taken into account was the need for metadata standards, which is a significant part of INFO 5240: Archival Arrangement and Description coursework, as well as the need to create those standards specific to this project, which is a skillset developed in INFO 5200: Information Organization."
Over 1,500 post-it notes were collected, scanned, and cataloged into a large database. Exactly 1,338 unique post-it notes were placed into the final design file which, when printed as a single banner, will be 24.5-feet long and 6-feet high. Sometimes multiple people wrote the same comment, but no note appears more than once.

Since it's unveiling, the project has been well received and an inspiration for others. Boston hopes that it will in some way help to strengthen the healing partnerships between the Veterans and the staff at the Houston VA, and encourage other Veterans to utilize the Center and seek the help they may need. While Boston acknowledges that 'there is still much to do', it is also time to say 'thank you' to those that work so hard to provide a positive experience for many.
---
Boston is a rhythm poet, writer, speaker, facilitator, and aspiring librarian. In addition to facilitating the Post-it® Note Appreciation Project, Boston is a founding creator of the GENDER book, is the poet on the poetry-photography project: define:TraNsition, catalog of poʊə-ˈtɑɡrə-fi; and was published in the very first issue of THEM lit.