The UNT ASIS&T Student Chapter has been awarded the 2019 Association for Information Science and Technology (ASIS&T) Student Chapter of the Year Award. This is the second year for the Chapter, who also received the award in 2018.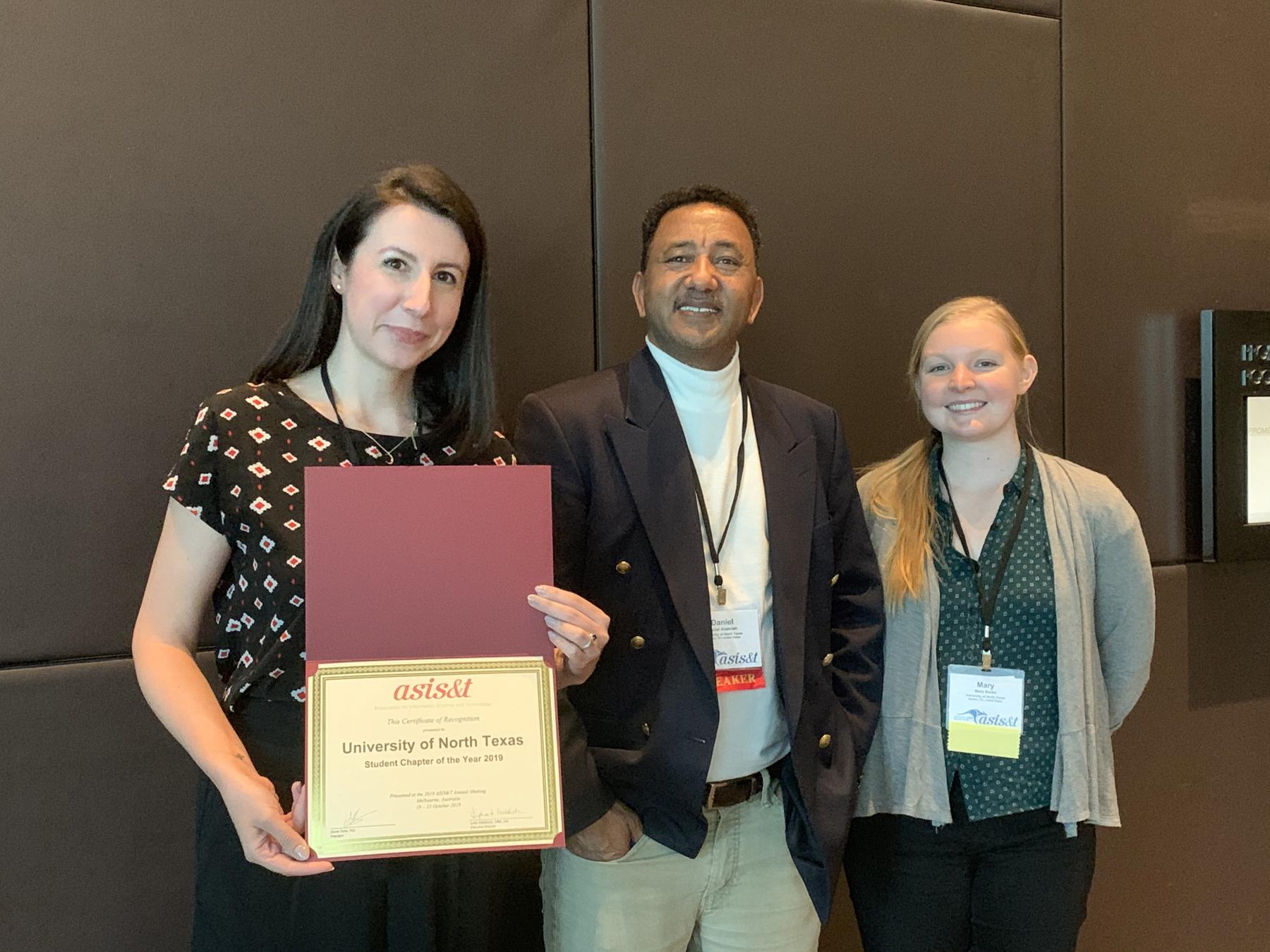 The UNT chapter was awarded this honor, considering "student chapter membership, chapter activities throughout the year, streams of communication and publication, administration and leadership, awards and honors, and contributions to ASIS&T and the broader information science community."
"As outgoing president of the chapter, I am really proud of all of the work that everyone has put into our chapter," said Ana Roeschley, UNT ASIS&T student chapter president and IS PhD candidate. "I think our student officers, faculty advisors, and chapter members have worked hard to organize excellent events like MIRS and I am thankful that ASIS&T recognizes that."
The group is praised for the successful planning and execution of the recurring Multi-disciplinary Information Research Symposium (MIRS), a one-day research symposium where students and professionals are given the opportunity to display their work.
"MIRS especially would not have been possible without Malak Khader, Mary Burke, and Sahar Behpour, which is why I am so excited that Mary and Malak are now serving as co-presidents, with Sahar as vice president of the chapter," stated Ana. "I have no doubts that their leadership of the chapter will make a huge and positive impact on our students and on ASIS&T at large."
The UNT ASIS&T Student Chapter organization is open to all UNT students in any related discipline. There is no membership fee, however students are encouraged to become members of the ASIS&T organization - for which the chapter provides a student discount of $35 to join. They collaborate with various UNT academic units as well as external organizations to host several informative and fun events. Two faculty members advise the chapter: Dr. Jeonghyun "Annie" Kim, IS associate professor, and Dr. Daniel Alemneh, IS adjunct professor and digital curation coordinator, UNT Libraries.
The award was presented to the chapter officers at the annual ASIS&T conference held in Melbourne, Australia from October 19-23, 2019.