During the fall and spring semesters, faculty and doctoral students gather for one hour on Wednesday afternoons to casually present and exchange ideas about research. These meetings are known as the "Information Science Research Meetings" or "Brown Bag meetings" and are meant to support Ph.D. students and faculty in their research careers. They are designed to teach and encourage discussion and are open to all faculty and students who wish to share their ideas in the field of Data Science, Information Science, or Library Science.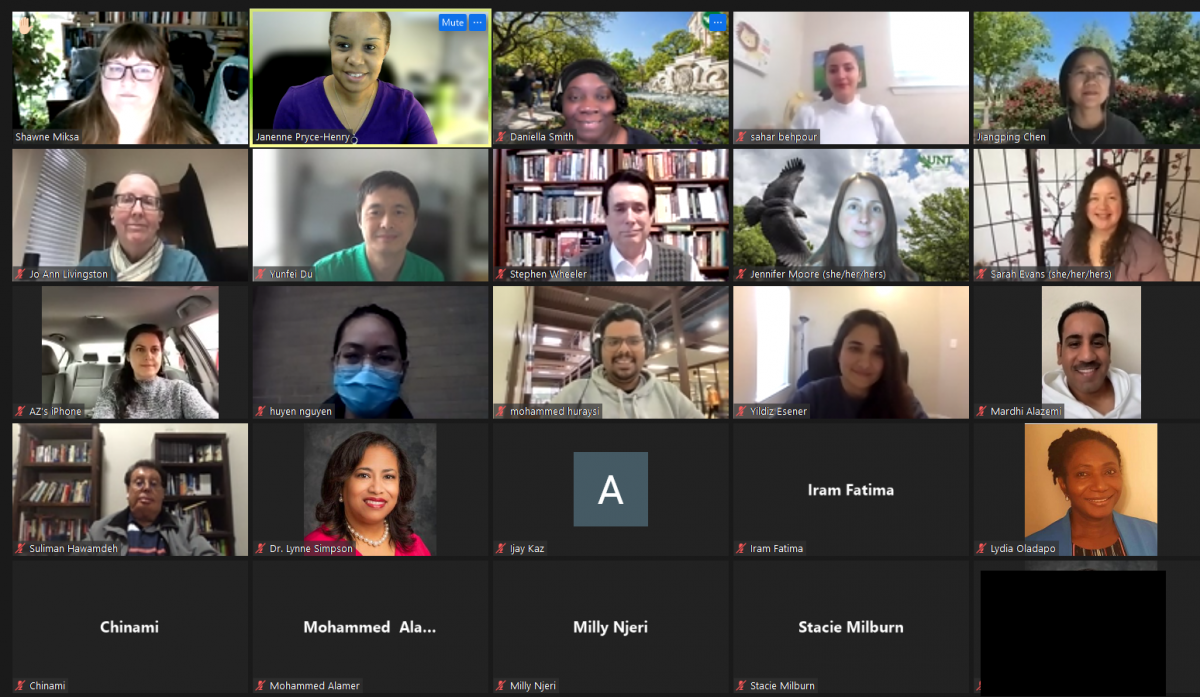 The Brown Bag meetings first began in fall 2017 and was proposed and organized by professor and department chair, Jiangping Chen.
"The research meetings provide faculty and students a platform for communicating their research ideas, practicing their communication skills, and learning from colleagues," said Chen.
The first Brown Bag meeting took place on September 16, 2017 with the research topic "UNT Intelligent Information Access Lab and Its Projects" and was led by Chen. The meetings first began as face-to-face casual gatherings in the Department's Multipurpose room on the Discovery Park campus. There were 11 meetings in fall 2017 and spring 2018, respectively.

Regents Professor, Jeff Allen organized the meetings for the fall 2019 semester and changed the format to a mix of both online and face-to-face meetings for that semester. This allowed more students to participate through the virtual format.
The Brown Bag meetings now take place completely online, via Zoom. Presentations are hosted by both faculty and doctoral students. The topics range from presentations that provide general tips and information about research and the Ph.D. student journey, such as the most recent presentation "I need Data. What do I do?" by Dr. Daniella Smith. Presentations also center around research that faculty and/or students are currently exploring and include presentations titled "Deep Thinking on Information Science" by Dr. Shawne Miksa and an upcoming presentation by Dr. Junhua Ding and Ph.D. candidate, Haihua Chen titled "Construction and Evaluation of High Quality Corpus for Legal Intelligence using Semi-automated Approaches."
"Nearly all Information Science faculty members are presented at the meetings. We have witnessed the progress of our doctoral students through this. I am glad more and more students, instructors, and faculty members are active participants," Chen said.
Haihua Chen, a current doctoral candidate who has presented at the Brown Bag meetings multiple times says he has learned a great deal from the research meetings.
"I have been attending the IS Brown Bags since the very beginning," said Haihua. "As a Ph.D. student, it offers us the chance to learn from colleagues and find potential collaborators in the department. By presenting my research I received useful feedback for improving my research and I got the opportunity to practice my presentation skills."
Doctoral candidate, Fariba Fard who also participates in the meetings is grateful for the platform to share ideas.
"Many thanks to the IS research meetings for providing the opportunity to present the research I am passionate about to the people I love working with," Fard said.
The Brown Bag meetings kick off during the first week of classes and faculty and students are encouraged to sign up to present during that time. The schedule for the semester is provided in advance on the Department's website.

For more about the Information Science Research Meetings and the schedule, visit the IS Research Meetings webpage.
Published November 9, 2021.