Congratulations to Associate Professor, Dr. Oksana Zavalina, who has been awarded a grant from the Institute of Museum and Library Services (IMLS) for a collaborative project " Exploring Methods and Techniques for Facilitating Access to Digital Language Archives." The project is a collaboration between Dr. Shobhana Chelliah, professor in the College of Information (COI) Linguistics Department and associate dean of research and development for COI, and Mark Philips, associate dean for Digital Libraries at the UNT Libraries. Dr. Zavalina will serve as the Principal Investigator for the project.
Th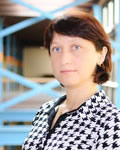 e project will seek to recognize the gaps between the information organization methods and techniques currently offered in existing language data archives, and the needs of actual and potential language data archive users. It includes identifying and implementing effective information organization techniques – metadata schemes and/or application profiles, controlled vocabularies, linked data applications – that would make sense for both the potential depositors and the potential users of language data. This project will provide the background information for a larger forthcoming research project aimed at extending the usefulness of language data archive collections through a user-centered design of systems incorporating the techniques for providing digital access to language data collections at scale.
There are four groups involved in language data archiving that will benefit particularly from this project, including linguists and library and information science programs. LIS educators will find the results beneficial in developing curriculum to meet the needs of language archivists.
Library and Information Science students in the future will benefit from the knowledge of efficient metadata and other information organization tools for a community of users interested in language data. The knowledge derived from this project will also be incorporated in Information Science courses. The project is also expected to have a national impact in addressing the needs of language research and education and extending the usefulness of existing language data archives.