The Association for Information Science and Technology (ASIS&T) is a "professional association that advances the information sciences and related applications of information technology." The organization provides career development and leadership opportunities through regional chapters and student chapters.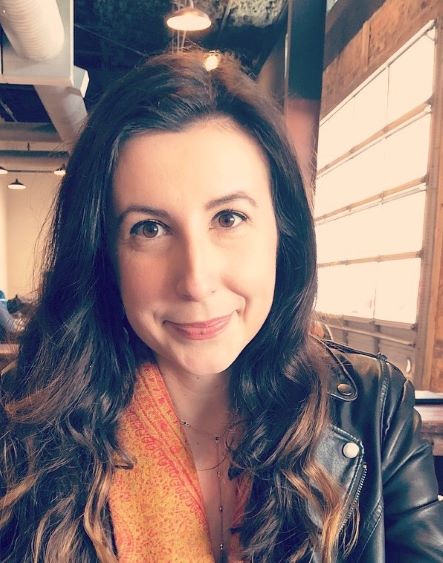 In 2015, the UNT ASIS&T Student Chapter was revived by two doctoral students, and in 2016 the Chapter won first place for Membership Growth. Things have not slowed down for the chapter since then, and the recent leadership and its members have kept the momentum going. We caught up with Ana Roeschley, President of the Association, to chat about the Chapter, life as a Ph.D. student, her ASIS&T New Leader Award, and the upcoming Multi-disciplinary Information Research Symposium (MIRS).
Ana is in her third year of the Information Science PhD program, and is serving her second term as the president of ASIS&T. Her research interests include collective memory, digital humanities, and participatory archival culture.
One of the focal points for her as president and for the other officers, has been "to ensure that students feel an extra sense of scholarly community through their interaction within the organization." She wants it to be a place to share research ideas, social network, and research. As a first generation college student and Ph.D. student, Ana realized that there were many things about the doctoral process that she didn't know and found herself in a kind of "sink or swim" situation.
"My first year in the program, it's that thing where you and your cohort come in and you're in the same classes and then in the second year, you are all following your own path. In my second year, I was nominated and elected president of ASIS&T and I realized I missed my cohort and saw the need [for that connection]. That has been a focus for me and the other officers. We thought that the student chapter can be a space and a source of support, and also that our events can allow people to ask questions of each other," said Ana.
The organization is open to all UNT students in any related discipline. There is no membership fee, however students are encouraged to become members of the ASIS&T organization - for which the chapter provides a student discount of $35 to join. The organization currently has about 40 official members. They have collaborated with various UNT academic units as well as external organizations to host several informative and fun events. Last semester the Chapter hosted an evening with the University reader, a board game night (jointly with LISSA), and a brown bag event, to name a few. "We want to make sure our events serve all our students," said Ana.
The 2018 ASIS&T conference held in Vancouver, Canada in November was particularly exciting for Ana and the chapter officers. The UNT Chapter received the 2018 ASIS&T Student Chapter of the Year Award, a great highlight and achievement for Ana and the officers.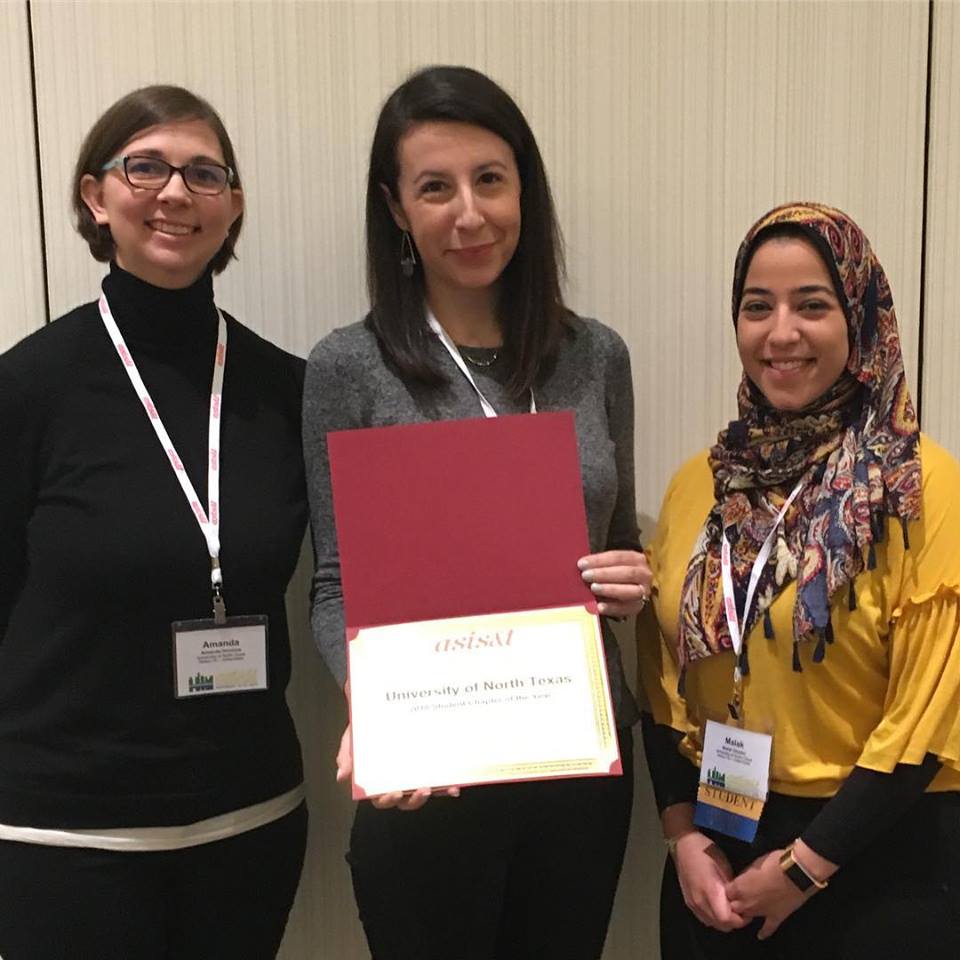 Ana was also selected as an ASIS&T New Leader, an award and position given to new members who demonstrate leadership potential. During her 2-year tenure, Ana will serve with the Arts and Humanities Special Interest Group (SIG/AH).
"I hope to serve ASIS&T as well as it has served me in my short time in the organization. Through participation in the New Leaders Program, I hope to grow as a leader, doctoral student, and as a member of our field. In turn, I hope to return what I gain through continued service and involvement with ASIS&T and the information science field at large. I'm really excited to work with this SIG because they are very active and they do great things. I will be working with the Chair of the SIG, and he and I will work together to choose a project for me to foster," said Ana.
The student chapter is advised by two faculty members, Dr. Jeonghyun Kim, IS associate professor and Dr. Daniel Alemneh, IS adjunct professor and digital curation coordinator, UNT Libraries. They provide guidance on organizing events, raising money, among other things.
When asked about the faculty advisors, Ana responds, "They're the best! Dr. Kim and Dr. Alemneh let students decide what to do and then they give advice on how to do it. They are both supportive of officers and giving of their time."
At the moment, all hands are on deck for the annual Multi-disciplinary Information Research Symposium (MIRS), a big event that the ASIS&T group is taking the lead on organizing this year. The event will be held on Saturday, April 27, 2019 at the UNT University Union, and will display the work of scholars and practitioners exploring information and its impact on people. The theme for this year is "Information, Language and Power". The submission deadline for abstracts for papers, posters and workshops is February 28, 2019.
"Something that we are really proud of is that MIRS is a student led event, and this year we are trying to open it more to students outside of the College of Information and UNT, as well as faculty and early career professionals. One thing that we want to focus on is that this a great event for first time or new presenters or early career professionals. It is a very nurturing event where faculty are giving of their feedback, and it's a great event for people to get their feet wet that are entering academia."
When asked how she plans to balance everything, Ana jokes "I don't know!" But a full plate is nothing new to Ana who enjoys staying busy.
"I feel like it's just kind of been my life. Even before I was a PhD student, I just had a lot going on, but I really like having a lot going on. I think honestly having a really good support system is important. Having Dr. Kim there who is my major professor…she's wonderful and she's been really great about providing good and honest advice."
This is Ana's last year as president of the organization. She feels confident however, in handing the baton over to newer students who are capable and willing to take on the leadership roles.
"I feel like we have a really great group of officers, including Malak Khader who is the vice president, Pranathy Enamela who is the communications officer, our treasurer Sahar Behpour, and membership chair Amanda Houvious, so I don't feel worried that when I'm done, the chapter is going to stop."
For more about the UNT ASIS&T group, visit their website.
Congratulations to the officers who served the student chapter in AY 2017-2018: Ana Roeschley (President), LeAnn Boyce (Vice-President), Amanda Hovious (Events Chair), and Deborah Caldwell (Communication Officer).
The new officers for AY 2018-2019: Ana Roeschley (President); Malak Khader (Vice President); Amanda Hovious (Membership Chair); Sahar Behpour (Treasurer); Pranathy Enamela (Communication Officer).