DIS Professor Dr. Suliman Hawamdeh is the 2020 recipient of the Professional Contribution to LIS Education Award by the Association for Library and Information Science Education (ALISE). The award is given to an ALISE member for 'regular and sustained service that promotes and strengthens the broad areas of library and information science education through the holding of appropriate offices and positions within the profession.'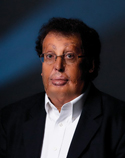 "It means a lot to me as it serves as a token of appreciation and recognition of my scholarly work and service to the field of library and information science," said Hawamdeh.
"I am glad to be part of efforts of expanding the horizon of the field of library and information science by creating new programs in the areas of knowledge management and data science nationally and internationally. It is always nice to be recognized by your peers," he added.
Hawamdeh joined the department in 2010 as department chair and served in that role until 2017. He also served as director of the Information Science PhD program for several years. Prior to joining UNT, he founded and directed a number of academic programs, including the first Master of Science in Knowledge Management in Asia in the School of Communication and Information at Nanyang Technological University in Singapore.
Hawamdeh has authored and edited several books on the topic of knowledge management. He is the Editor in Chief of the Journal of Information and Knowledge Management (JIKM). In his professional career, he has delivered several keynote presentations at conferences and events around the world, including an invited talk at the United Nations World Summit on Information Society in 2005.
Suliman is an active member of ALISE and is currently the Conference co-chair for the 2020 ALISE conference, where he is responsible for planning aspects of the program. In addition to his participation with ALISE, Hawamdeh has also served in the capacity of chair and founding chair for several conferences including the International Conference on Knowledge Management (ICKM) and the Knowledge and Project Management Symposium (KIPA). He is the founding president of KIPA, as well as the Information and Knowledge Management Society.
Hawamdeh remains optimistic about the future of LIS education which he says is continuously evolving, a process that he is pleased to have been able to participate in over the years.
"I am glad to be part of the work done in the late eighties and early nighties in the areas of information retrieval in particular free text and full text databases that paved the way for the development of today's Internet search engines. It is rewarding and it gives you sense of satisfaction to be part of the knowledge discovery journey and the effort to continue pushing and expanding the boundaries of the field of information science and knowledge management," said Hawamdeh.